In this day and age so many of us are turning to the internet for instruction and education. We can get linked up to expert coaches to push us through our physical workouts, get trade school certificates or college degrees without setting a single foot on campus grounds, and even further or knowledge in interests and hobbies by engaging in online Master Classes. I have personally taken online classes in astrophysics and space exploration, yoga, music, and even survival skills for wilderness hikers and campers, with great enthusiasm and success! So why not look to the internet to train your puppy or adult dog?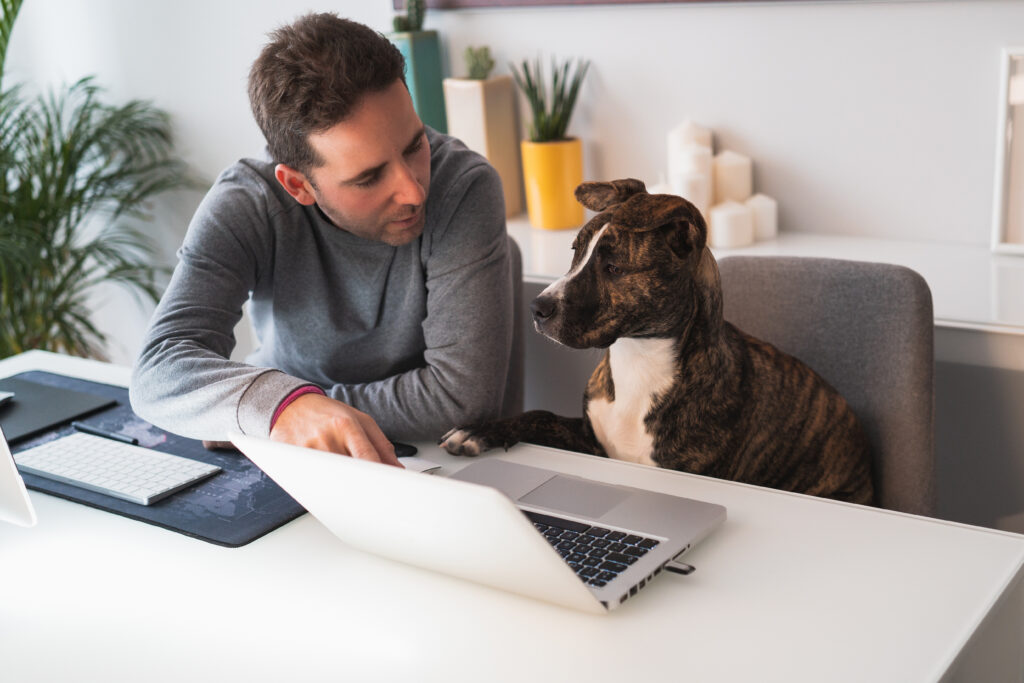 Dog Training and Behavior Counseling was, at one time, primarily an in-person endeavor. In recent times this has changed. With the power of the world wide web, a reliable computer with a camera, dog training has moved into the future of learning and education. You do not need to travel to a trainers' facility or bring a trainer into your home to address many behavior concerns or engage in quality puppy training or obedience training for your teenage or adult dog.
Some commonly asked questions are:
IS VIRTUAL ONLINE DOG TRAINING AS EFFECTIVE AS IN PERSON TRAINING?
The answer is a resounding, YES! In fact, in many cases, it is actually more affective than in person training. With online training you can benefit from the expert guidance of an educated and qualified dog trainer no matter where you live. You can schedule training times that fit your schedule.
Flexible Scheduling: Your online training session can be scheduled at a time that is convenient for you during normal business hours.
No Geographical Limits: No matter where you live you can benefit from expert training guidance.
Personalized Attention: You get one-on-one, customized training to suit your dog's individual training needs.
Expert Guidance: You benefit from working with a highly educated and knowledgeable professional with over 35 years of experience helping people overcome their dog's behavior and training problems.
Observation: Clients often tell us "he/she is so good when you are here!" By engaging in online training sessions, we get to observe your dog's behavior as if we were not there, allowing us to see how your dog really behaves.
Experienced: I have over 35 years of experience and continuing education in the field of canine behavior and training. I have been working virtually with clients. I have personally met with clients throughout the USA and Canada for training sessions ranging from Puppy Einstein Right Start Programs to teaching basic obedience or manners to addressing serious behavior concerns such as separation anxiety or aggressive behaviors.
When working with fearful or anxious dogs, or dogs who display aggressive behaviors, virtual online training sessions allow you to benefit from an educated and qualified trainer in the comfort and security of your own home. As your dog learns better skills and comfort virtual online training session can even move out of doors or other locations where the individual dogs training lessons need to go to progress. This allows you and your dog to learn in a stress-free environment that builds upon both you and your dogs comfort and abilities.
By using virtual platforms such as Zoom or Facetime an educated and qualified trainer can expertly guide you through your training needs.
BUT WHAT ABOUT PUPPY TRAINING AND SOCIALIZATION?
The myth that puppies need to go to a puppy class for socialization is far outdated. Classes actually offer very limited socialization. Puppies are exposed to the same people, the same puppies, and the same environment, week after week. This does not support good socialization practices. Socialization is about learning to be comfortable with the world in general, including people, other animals, sounds, sights, touch, and activities. Online training from an educated and qualified trainer can teach you how to take a systematic and fun approach to introducing your puppy to many new experiences in a manner that builds upon your puppies trust and self-security with the changing world.
HOW DOES VIRTUAL ONLINE PUPPY AND DOG TRAINING WORK?
It's easy. You don't need any fancy or expensive equipment. If you have a computer with a webcam and an internet connection, you're all set to start. You can also use a smart phone or tablet. By using free and easy to download software we can connect via Zoom, skype or Facetime.
Not tech savvy? No worries. Your trainer can talk you though how to get set up for online training sessions. It's easy!
VIRTUAL ONLINE TRAINING CAN HELP WITH:
Curbing behavior concerns such as Jumping, Barking, Out of control greetings.
Separation Anxiety, Isolation Distress, Kennel/Crate Distress
And so much more …
If you would like to learn more about Virtual Online training and if it is right for you and your puppy or adult dog contact us to discuss your individual training needs. Contact