When behavior and training problems arise with your puppy or adult dog, you need expert help fast! With the power of technology I can promptly schedule a Skype or Zoom training session with clients in Lincoln and Omaha, Nebraska, or ANYWHERE in the country. With the magic of technology I have helped countless clients resolve their dog's behavior and training concerns. 
All you need is a computer, an online connection and a webcam and we can meet with you face to face, where ever you are.
Flexible Scheduling: Your online training session can be scheduled at a time that is convenient for you.
No Geographical Limits: No matter where you live you can benefit from expert training guidance.

 

Personalized Attention: You get one-on-one, customized training to suit your dog's individual training needs.

 

Expert Guidance: You benefit from working with a highly educated and knowledgeable professional with over 35 years of experience helping people overcome their dog's behavior and training problems.

 

Observation: Clients often tell us "he/she is so good when you are here!" By engaging in online training sessions we get to observe your dog's behavior as if we were not there, allowing us to see how your dog really behaves.

 

We are Experienced: We have been working virtually with clients for over 8 years and have developed the expertise of being able to assess your training needs and help you meet your training goals with your dog.

 

Positive Results: We use only science supported, positive training methods for positive results!
Online Dog Training
$
125
Initial Session - First Hour
$100. per hour for any subsequent time used during initial session, accumulated in quarter hour increments as used. This way you only pay for the time used during a session.

Follow-up support is readily available at no extra charge via phone, text or e-mail as you progress through this training course.

Follow us sessions can be scheduled as needed and will be billed at $100. per hour session.

All Puppy Einstein-Right Start and Obedience Level I and II Programs are available via online training. Enrollment fees are the same as in home training.
How does online training work?
You don't need any fancy or expensive equipment. If you have a computer with a webcam and internet you're all set. You can also use a smartphone or a tablet. By using free and easy to download software we can connect via Skype or Zoom. 
Not tech savvy? No worries, we can talk you though how to get set up for online training sessions. It's easy!
When you contact us we will help you determine if online training is right for you and your puppy or adult dog's training needs. If online training is right for you and your training needs, we can schedule an appointment and get started helping you reach your training goals.    
And rest assured, we use only science supported, positive training methods for positive results!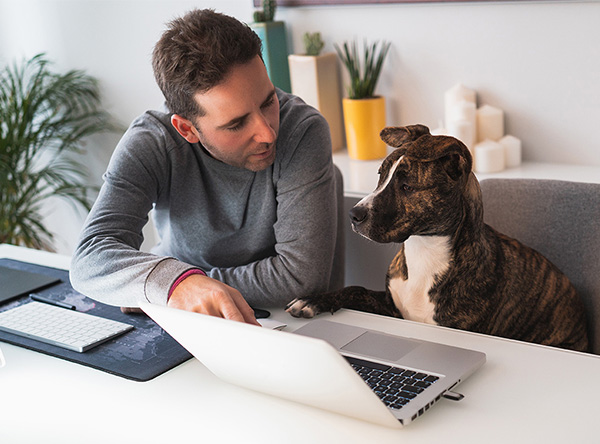 What our online clients are saying:
Online training was like bringing a personal coach into our home. We were able to schedule training sessions when it suited my schedule. Your personal assessment and guidance of teaching me better training methods and ability, along with the detailed step by step training plans were easy to follow and resulted in very fast and positive results. I really appreciated you being available to answer my questions as I progressed through the training program. Well done!
In this world of technology it seems natural to engage in online training with my dog. Reilly is so fearful of people and going to new places that going to a group class or even having someone new and unfamiliar come into our home would have been too stressful for him and would cause him to "shut down" and hide. We are following the training plan you taught us and are watching Reilly gain more confidence almost daily! He no longer hides when friends and family come to visit. Thank you for your patience, positive attitude and professional guidance. We could not be more pleased with the results we are seeing with our well-loved boy, Reilly.
I was skeptical about doing online training with my dog, but where I live I have no other options. I was immediately impressed by your professionalism, expertise and ability to offer step by step guidance to my training needs. Your compassion and attention to my concerns put me at ease quickly. Thanks to your knowledgeable guidance Zeus is now a well behaved "gentleman" with us and with our guests.
My husband and I enrolled [online] in your Puppy Einstein-Right Start Program with our Labradoodle, Jackson. We have had many dogs over the years but Jackson, by far, has been the hardest. We honestly thought we would have to give him back to the breeder. He would bite our hands and rip at our clothing, continuously getting into EVERYTHING, and just wouldn't listen to us. Thanks to your guidance Jackson is now a calm and well behaved member of our family. He plays well with our grandchildren even snuggles with them when they sleep. Something he could never do before we started training with you. Thank you for all your help. You saved our relationship with Jackson and helped us be able to really enjoy having him in our home. We will recommend your training services to everyone we know.